"Open educational resources (OER) are freely accessible, openly licensed documents and media that are useful for teaching, learning, and assessing as well as for research purposes." (Wikipedia).
In order for a resource to be considered open, permissions must allow you to do all of the following (often called the 5 Rs):
Retain a copy
Reuse the content
Revise or modify
Remix or combine parts from various sources into one
Redistribute the original and your revision/remix
The most common way for permissions to be stated is using a Creative Commons license. If you are not familiar with Creative Commons licenses, please take a few minutes to learn more about them. You may also find this more in-depth self-guided training on Copyright, Creative Commons, and Fair Use helpful.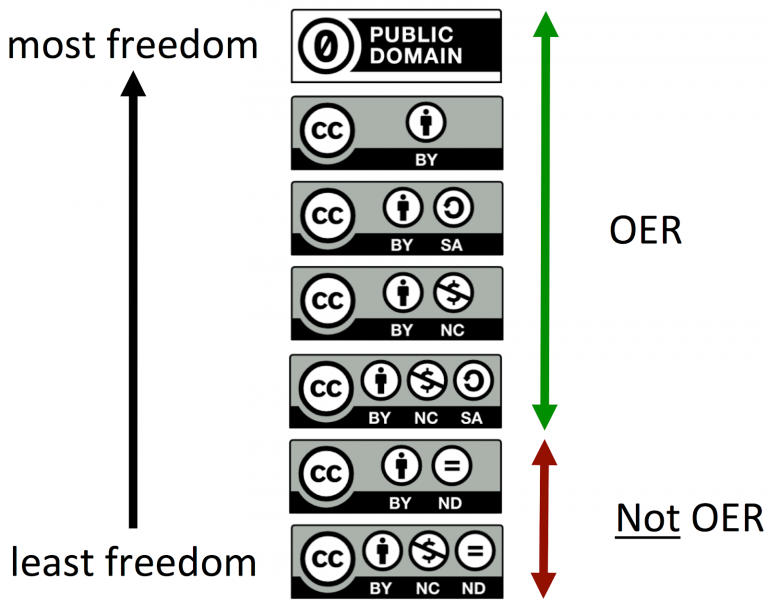 (Image by Cable Green.)
Simply having a Creative Commons license does not make something a fully open resource. ND stands for No Derivatives, meaning the work cannot be modified or remixed. Since the option to revise or remix is a key aspect of an open resource, sources with an ND restriction are not fully open. You are still free to use the work as-is if that works for you and your course!
You may find the following guide useful in understand what you can and can't do with a work based on the license it carries. (Click on the image to access the full document.)