Journal of Asian American Studies
Scholarly articles on all aspects of Asian American experiences, including new theoretical developments, research results, etc.
Asian American Journal of Psychology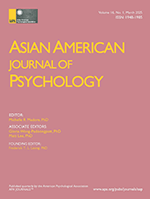 Empirical, theoretical, methodological, and practice oriented articles covering topics relevant to Asian American individuals and communities.
Asian American Literature: Discourses and Pedagogies
Features research on Asian American literature for students, teachers, and the general public.